Functional Neurologist and Chiropractor on Hilton Head : Dr. John C. Saponara Jr.
I knew I always wanted to be a doctor of some type. I have always enjoyed helping people!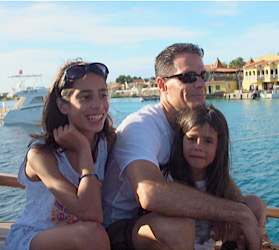 As a kid I would look up vitamins and minerals to see which one would help a particular ailment, my family or friends had. This led me on the path originally to become an osteopath. Early on I believed in the bodies own ability to heal through manipulation, and besides, my physician growing up was an osteopath, it worked…
While at school that path would change… I had friends who were injured during sporting events, and saw the conventional medical approach and quickly I realized there is another, better way to treat musculoskeletal injuries, whether it be spinal, or extremity related.
That's how I became a chiropractor on Hilton Head, and for over 28 years, each day, each week, I get to see the amazing healing ability of the body do it's thing, and it continues to be an amazing ride!
Chiropractic Education
I'm a 1992 graduate of Palmer College of Chiropractic, I chose Palmer because it's the birth place of Chiropractic. The largest and best Chiropractic school in the world, which would give me an education second to none.
My post graduate studies include studying at the National Olympic Training Center in Beijing, China, completing the Certified Chiropractic Sports Physician course and becoming board eligible, completed and became certified in Kinesio Taping, becoming certified in Botanical Medicine, and completing other post graduate courses specializing in headaches, neck pain, low back pain, extremities, and nutrition.
Functional Neurology
I've been privileged to be taught by Dr. Frederick Carrick (founder of Functional Neurology) and the Carrick Institute, and have over 1000 hours of clinical neuroscience. I have been admitted into the American College of Functional Neurology, as a Fellow of the American Board of Brain Injury and Rehabilitation. I have been certified by the American Academy of Pediatrics and the Centers for Disease Control and Prevention (CDC) as part of there Heads Up program. A program specialized in the recognition, treatment, and management of mTBI in pediatrics. I'm also Board Eligible in Vestibular Rehabilitation.
Patient Centered Approach to Chiropractic and Functional Neurology
My education and post graduate educational experiences in Chiropractic, Functional Neurology, Sports Injuries, Botanical Medicine and Nutrition has enabled me to incorporate a patient centered approach that is tailored to the unique needs of those who seek my counsel.
Because beliefs, attitudes, and motivations can all play a major role in overall wellness, I examine and include the physical, mental, and emotional aspects of all of my clients in order to make a more holistic and accurate diagnosis.
My devotion to good health is the basis and primary focus of my practice. Being and accomplished athlete myself, and having low back pain in the past, I've experienced what pain is, and I believe that this allows me to feel more compassion with my patients. I value the trust and confidence of my patients with whom I work in partnership for better health.
Enough talk about me! How can I help you through chiropractic or functional neurology? Give our Hilton Head chiropractic office a call so we can help you take your first step towards better health.
---
Hilton Head Functional Neurologist and Chiropractor | (843) 681-8001