EPAT (Shockwave Therapy)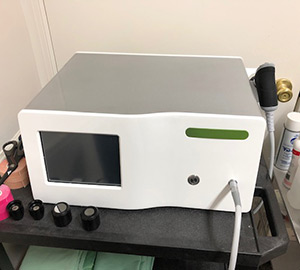 What is EPAT, or Shockwave Therapy?
EPAT stands for Extracorporeal Pulse Activation Technology, another name is Shockwave Therapy. The instrument uses the principles of sound waves, and the massage effect directly reaches the SMA fascia layer, which can pull out the fascia and muscles, and fundamentally solve a series of sub-health problems caused by muscle strain.
It affects the tissue in the following ways:
Cells: Enhance the permeability of cell membranes by increasing ion channel activity, promoting cell division, and stimulating the production of cytokines. Blood vessels in muscles and muscles: Improve blood circulation, increase growth factor β1, and enhance mitosis of osteoblasts.
Nitrogen oxide system: accelerates the remodeling and healing of bones. Improve microcirculation and metabolism.
Promotes the dissolution of calcified fibroblasts.
Promotes the synthesis of collagen.
Reduce tissue tension. It has an analgesic effect.
This form of therapy is highly effective, non-surgical treatment for acute and chronic pain in the heel, shoulder, elbow, and low back. It is typically used to treat the pain associated with heel spurs, Plantar Fasciitis, Achilles tendinitis, Shoulder tendinitis, Elbow tendinitis (Golfers/Tennis Elbow) and other conditions.  Medical studies show about 80% of patients suffering from plantar fasciitis or Achilles tendonitis will find relief with EPAT therapy.
Most treatment procedures consist of 4-8 in-office sessions, approximately 5-10 minutes each, at weekly intervals. Treatment protocols may vary slightly depending on the condition presented. Typically 1 treatment is performed weekly basis for 3-4 weeks.  Patients are evaluated for improvement at 6 and 12 weeks after the first treatment.  You may have initial improvement but maximum benefit/improvement is usually seen at about 12 weeks after the final session.
Over 80% of EPAT patients report significantly reduced or eliminated pain. While no treatment is 100% effective, EPAT can help to heal chronic conditions that don't respond to traditional treatment.
Additionally, since EPAT is a non-invasive therapy, there is no anesthesia required, no scarring, no risk of infection, and no recovery period after treatment. Patients don't have to take time off work or stop their activities.
PATIENTS WITH PACEMAKERS AND PATIENTS TAKING MEDICATIONS THAT MAY PROLONG OR INTERFERE WITH BLOOD CLOTTING (COUMADIN) ARE NOT CANDIDATES FOR EPAT (Shock wave Therapy). ALSO, CHILDREN OR PREGNANT WOMEN ARE NOT CONSIDERED APPROPRIATE CANDIDATES FOR EPAT (Shock wave Therapy).
---
EPAT (Shockwave Therapy) in Hilton Head | (843) 681-8001