Custom Orthotics on Hilton Head Island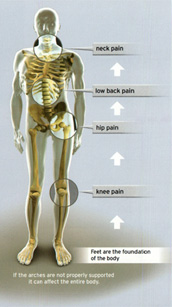 "Life in Balance," its a wonderful thing!
Custom Orthotics support the 26 bones and over 100 muscles in each of your feet to stabilize your foundation. They will maintain your feet's 3-arches and balance your entire body.
When supported properly, your 3-arches (medial, transverse, and lateral), will: provide balance, give stability, allow proper shock absorption, properly aid in your bodies weight distribution and biomechanical function.
Pain in your neck, low back, hips & knees can be coming from your feet
Foot Levelers© Pelvic Stabilizers offered here at our Hilton Head chiropractic office will correct improper pronation/supination and allow proper biomechanics, whether your on your feet all day, or training for a triathlon.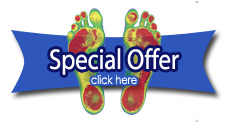 Spenco Total Support Sandals on Hilton Head
Spenco Sandals are the perfect choice for everyday use, whether it be around town, or at the beach. They offer superb support of all 3 foot arches, giving you the stability you will not get from flip flops, or most sandals.
Sorb® Total Support Sandals

Spenco® PolySorb® Total Support Sandals combine the support and stability of our best-selling insole with the comfort and simplicity of a slip-on sandal. Great for after sports or training or just kicking back indoors or out.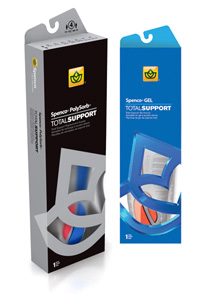 Unlike some other slip-ons, Spenco® Sandals are designed with orthotic-quality arch and heel support. Superior impact cushioning and motion control help reduce pronation and supination—common problems associated with flat, slab-style sandals. Available in a range of sizes for men and women, and three styles.
Spenco® Fusion Sandals
Sometimes healthy living can be as easy as slipping on a pair of sandals -Spenco® Fusion Sandals help reduce pronation and supination while absorbing shock. Heel control and arch support improve balance while soft, durable, lightweight EVA cushions the foot. Colorful, casual, lightweight and well priced.
Spenco® PolySorb® Products
Spenco® PolySorb® Replacement Insoles are designed to cushion, support and stabilize your feet through improved balance and alignment, shock absorption, energy return and friction reduction for lasting foot comfort while boosting the performance of your athletic shoes.

We offer a large selection of various sizes and styles! Call our office today at (843) 681-8001.
---
Custom Orthotics in Hilton Head | (843) 681-8001